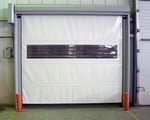 (Suomenkielinen teksti tulossa)
The leaf of DoorHan high speed roll-up doors is made of strong polyester (700 – 1,700 g/m2) with transparent inserts, opening the space view behind the doors. They differ by high handling capacity at minimum heat losses.
Due to the high operation speed of the doors the required indoor microclimate is maximally preserved even at high intensity of their usage. The possibility of regulating the opening/closing speed of the doors in a broad range permits to fine tune their work according to the requirements.
The door leaf design does not have rigid elements, which provides their operational safety. The doors possess a function of "self-restoring" – if the door leaf drops out of its tracks, for example, in case of a blow by the automatic loader, the system of automatic "restoring" returns the leaf into its tracks during the next cycle.
The framework and all casings are made of aluminium alloy. The design modularity allows an easy replacement of separate door elements. The installation is carried out by means of add-on assembly.
Tekniset tiedot ja mitat
DIMENSIONS/SPECIAL FEATURES
PARAMETER VALUE
Maximum opening dimensions
5000х5000 mm
Minimum opening dimensions
1000×1000 mm
Leaf material
polyester with two inside/outside PVC layers
Angle post material
aluminium alloy h=2 mm
Standard colours of frame/leaf
white (RAL 9010), green (RAL 6001), blue (RAL 5002),
red (RAL 3002), yellow (RAL 1003), silver (RAL 9006
| SPECIFICATIONS | PARAMETER VALUE |
| --- | --- |
| Power supply | 220 V, 50/60 Hz |
| Control voltage | 24 V |
| Power of electric drive | 0,5-1,1 kW |
| Control unit | external |
| Unit protection class | IP55 |
| Maximum opening/closing speed | 1…2/0.5 m/s |
| Thickness of opaque material | 0,7 mm |
| Thickness of transparent material | 2 mm |
| Operating temperature | from -5 to +50 °C |
| Maximum pressure | 4 kg/m |
| Maximum wind load | 30 km/h |
Rakenne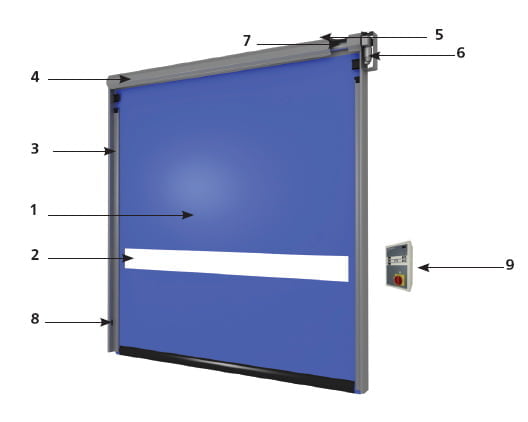 Door leaf
Transparent insert (window)
Vertical leg
Shaft hood
Electric operator hood
Electric operator
Shaft
Safety photocells
Control unit