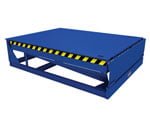 (Suomenkielinen teksti tulossa..)
MODL series mechanical dock leveller does not require power supply and may be used when there is no electricity and it is impossible to install the electrohydraulic platform. Mechanical platform is lifted manually by two people, meanwhile turning access ramp opens automatically.
Then the platform is lowered until it reaches the truck body. After completion of works the access ramp is lowered, the platform uplifts and returns to initial position. The installation is performed by means of embed or hanging mounting.
Fundamental advantages:
availability of self-purifying joint hinges between the platform and access ramp;
the access ramp length is 400 mm;
during the work with the truck which has distortion, the side inclination is possible up to 100 mm;
due to the yellow-black signal strip one can see, that the platform is located above the fixed ramp level;
side curtain airbags prevent ingress of maintenance staff feet to the gap between the platform and the sink during the work;
retention mechanism (repair support) provides safe performance of platform maintenance and repair;
access ramp supports provide safe transverse motion on the platform in closed position.